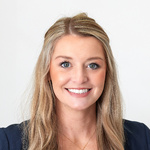 Born and raised in this beautiful state, I am a native to the Delaware beaches!
I also live in a Schell home! Check out the blog post: Building Happiness at Work and Home.
Being raised in the small town of Milford, I have had the luxury of living 20 minutes away from the beautiful beaches of Delaware for the entirety of my life! Really, I am a Delaware girl through and through. I graduated from the University of Delaware (GO BLUE HENS), met my husband waiting tables at Grotto Pizza grand slam in Lewes, AND was married on Rehoboth Beach with my toes in the sand! The beaches are absolutely the place to be! I have also been known as the crazy cat lady on the sales team... that was until I welcomed my very own babies to the world. I have been blessed to have two of the most beautiful boys I have ever seen! Joseph, and Jacob. We love taking time in the summer to head to Cape Henlopen's drive on Surf Fishing Beach and making those memories with our boys! Family is very important to me. Which brings me to why I love what I get to do... to help your family find their home at the beach! Two of my favorite things!
I am so excited to get to know you and introduce you to all of my favorites. Looking for a new home should be an exciting journey however sometimes, it can be overwhelming if you are not starting off with the right questions! This is where I can help. How I do this is by getting to know YOU better and what is going on in your world!
Take a peek at the video below as I explain the awesome process of how I can help you find your new home at the Delaware Beaches! And so the adventure begins!! I look forward to hearing from you and helping you get to the beach 😊
-Alli Perry
Have a great day!
Alli Perry was our sales associate at Arbor Lyn and we could not have been happier with our experience. Alli, being a Schell homeowner herself, helped us to fully understand the home building process and was able to provide us with detailed information about what was to come.

The Sperlis

Arbor-Lyn Homeowners
Alli was the best! She was responsive, knowledgable, and went above and beyond to help us actualize our dreams. Above all, Alli was committed to creating "community" at Coastal Club. That aspect set her and the community above anything else out there. We couldn't be happier.

The Wolfes

Coastal Club Homeowners
Her knowledge of the sales process and how to navigate other aspects of purchasing a house from Schell is excellent. Alli has a very warm personality and is respectful and friendly which made the experience of purchasing a house less stressful. Thanks for such a positive experience.

L. Puig & J. Rueda

Arbor-Lyn Homeowners
Alli is the best person. She is such a kind, caring individual. She answered all our questions, and she helped us make some very important decisions. With her wealth of information she continued to make the process of buying a new home seemless for us. Alli made us feel welcome from the moment we stepped into the model home and met her.

The Ellenbergers

Arbor Lyn Homeowners
Alli was simply the best during our experience. We started out looking at 4 different communities and we found our home with Alli's help.

The Reibers

Arbor-Lyn Homeowners
Very professional, down to earth, approachable, responsive, knowledgeable.

M. Long

Arbor-Lyn Homeowner
Alli went out of her way to make sure all was well and held my hand when I was melting down. She remained positive and helped even after her part was done. Really made me feel she had my back.

The ColokathisVinuyas

Arbor-Lyn Homeowners
We were on a "fact finding" adventure as my husband liked to call it as we were slowly navigating our way to relocating to Coastal Delaware. In 2016, we were on one of those adventures looking at various Schell communities when we stumbled upon the entrance of Coastal Club. Not only was it love at first sight for CC, but within just a few minutes of meeting & talking to Alli Perry, we were "home!" The rest, as they say, is history! We connected immediately & to this day Alli holds a very special place in our hearts. Alli is a dream salesperson, so positive, knowledgeable, upbeat, caring, always smiling & aiming to please with a can-do attitude always. We decided to change our model after all the paperwork was completed. Alli didn't miss a beat or make it seem like it was a problem - not for a second. We loved when Alli visited us. We were filled with pride showing her our home as was she knowing the part she played in making our dream come true. Moving to Delaware & Coastal Club was the best decision we ever made. We truly believe the transition for us was made so much easier because of Alli. Here's to many more happy homeowners!! Schell Brothers, you have a treasure in Alli Perry!!

The Boemios

Coastal Club Homeowners
Alli is very personable and a joy to work with. She was responsive to all of our questions and needs. She is truly an asset to Schell Brothers. She makes you feel like family in a very professional way.

Suzanne & Ellen

Coastal Club Homeowners
Alli is wonderful to work with, professional, and a credit to your organization. We would likely not have bought the house were it not for our interactions with her.

The Milrods

Arbor-Lyn Homeowners