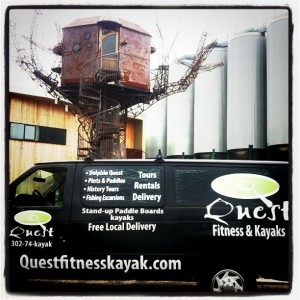 After the recent success of our Rehoboth Foodies competition, I came across another gem which just totally fits Schell Brother's culture of fun, being active and partying. So I went to me ole buddy Chrissy boy ("Mr. Schell" in person of course) and pitched him my idea. Once again the accent worked wonders.
So, I'm announcing my second competition: Pints & Paddles! To participate and have a chance at winning you just have to SHARE this post and also COMMENT below and tell me why you should win. The competition ends June 30th. 5 winners will be announced here on the Schell Blog and also on Facebook on the 1st of July.
The title of the Pints & Paddles tour was enough for me! That and the word 'sample'. I'm in 🙂 Check out the details below from Dogfish Head and leave me a comment.
Pints & Paddles

A kayaking excursion for the beer enthusiast! Brought to you by Dogfish Head Craft Brewery and Quest Kayak.

What is it?

A relaxing out-and-back paddle along the scenic Broadkill River suitable for novice or seasoned paddlers. We paddle out through the McCabe Nature Preserve (a Nature Conservancy property) where we often see herons, ospreys, turtles, occasional eagles, and other wildlife. This trip runs from May through October, so the flora of the area is always changing (magnolias, cardinal flowers, etc. are some of the plants we see). After the paddle, we visit the Dogfish Head Brewery and tour the facility and sample (for those of legal drinking age). A keepsake DFH Pint Glass is included with this excursion.
This is an excellent trip for first time paddlers.

Read more details about Pints & Paddles on the Dogfish Head blog.