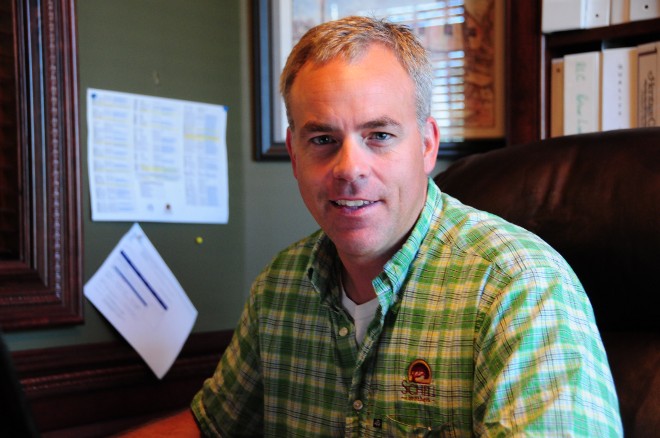 To get a better idea of how general (non-skilled) volunteers will be spending their time on the build site during Extreme Makeover: Home Edition, I talked to Mark Fitzgerald, V.P. of construction here at Schell Brothers.
Mark's been working closely with the Extreme Makeover team to prepare for the build so he's got a good idea of what kind of help we'll need. There will be a lot to do every day, and the needs will largely depend on what construction work is being performed during your volunteer shift.
All the nail hammering and wood cutting will be handled by volunteer contractors and other skilled professionals, but early on, we'll need people to assemble a few hundred hardhats, and later piles of materials will have to be moved, and parts of the site will need to be cleaned up. Of course, everyone needs water, so general volunteers will also be running water to workers.
Mark reminded me that construction will happen 24/7 and the job site will be lit up like a football field around the clock. So if you've volunteered for a late night shift there will be just as much work to do as during the day shifts – maybe even more.
Volunteer Online:
Sign up as a General Volunteer
Volunteers must be 18 years of age or older.
Sign up as a Skilled Volunteer
Professional trades and skilled volunteers only.
Other Ways to Help:
If you can't commit to volunteer for an available shift at the build site, there are lots of other things you can do to help support the project.
Come to the Pep Rally on Tuesday, August 16th at Cape Henlopen High School and bring a canned food donation. The rally starts at 6pm (doors open at 5:30pm) and is free for all.
Attend the Benefit Concert that directly follows the Pep Rally at 8pm. Get tickets online or at any Schell Brothers community.
Buy a Building Happiness t-shirt. Find out more about these shirts that were created specifically for this Extreme Makeover: Home Edition project soon. You can get them at the Pep Rally + Benefit Concert, or at any Schell Brothers community.
Another easy way to help out is to share this and other Building Happiness related blog posts with your circles on social networks.