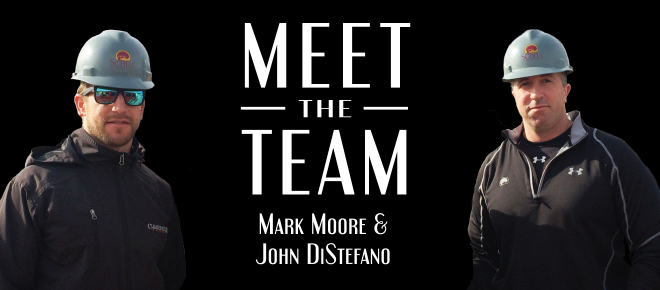 In the sales office, Jordan, Donna and myself are obviously the face of Coastal Club. Always good to have such pretty faces 🙂 but in reality, it's the construction team that have built, pardon the pun, the platform for which Coastal Club sits on today as the fastest selling community at the beach.
We've just started construction in our new phase, North Tisbury, and I thought it would be a great idea, I know, I'm full of them, to interview the two Construction Managers who will be building all these amazing homes in this phase.
I'll start with a little intro for both.
Mark Moore, pictured on the left, started Coastal Club. He built the model and all the homes in phase 1, Provincetown. Mark has been with the company five years and is considered a Senior Construction manager. He has been the construction manager in our most successful communities including Love Creek and Breakwater which have both since SOLD OUT! Mark is about as OCD as you can get about construction and building homes and happiness. A freak of nature some would say. So very dedicated and yet, manages to be a pretty awesome father to his one son, Mason.
John Di Stefano, pictured on the right, has lived life to the fullest. A retired State policeman, John came to the beach four years ago to marry a local gal and start a family.  John is one of those super nice guys! He has worked for Schell for four years and has gained experience in a number of our communities including Bayfront, Senators, Herring Creek and The Peninsula. His two daughters and wife keep him pretty busy, but John keeps a tight ship when he builds a house and his communication is second to none.
I obviously joke around with these boys a lot. Mark is renowned for his Under Armour apparel. That boy has more Under Armour clothing with the Schell logo then I think Kevin Plank does. I always tell people he has a contract with them and models for them. John, aka JD, is a softly spoken big chap. His biggest issue at Coastal Club is to resist going to the amazing Surf Bagel everyday! I have the same problem as breakfast bagels and the lunch wraps are amazing.
Anyway, let's get to know them better with some real questions that will give us proper insight into these two characters:
Q: If you could have dinner with anyone from history, who would it be, and why?
Mark: Martin Luther King Jr… just to talk about life and humanity.
JD: My Grandfather – I was a young child when he passed away and I have great memories of him as a grandparent. It would be awesome to sit and have an adult conversation with him. He was a WWII vet and I have a lot of respect for all of the men and women considered to be "The greatest generation".
Q: What did you want to be when you were 10 years old?
Mark: Professional beach lifeguard.
JD: I always wanted to be a police officer.
Q: What would I find in your refrigerator?
Mark: Lots of condiments, bacon, hard boiled eggs.
JD: Baby bottles and ketchup.
Q: List 3 words that describe your character.
Mark: Listener, forgiving, organized.
JD: Honest, loyal, determined.
Q: If Hollywood made a movie about your life, whom would you like to see play the lead role as you?
Mark: Matt Damon
JD: George Clooney
Q: If you could be a superhero, what would you want your superpowers to be?
Mark: The ability to fly!
JD: The ability to eat anything and everything I wanted all the while maintaining a shredded physique such as our other Construction Manager Mark Moore…
I'm confident after reading the answers to these questions you will be that much more comfortable with your construction manager. 🙂 
Cheers Adam