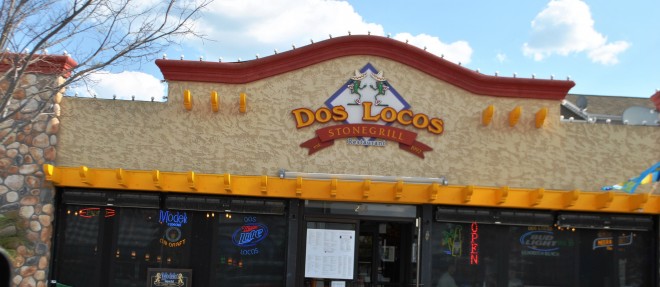 Dos Locos on Rehoboth Ave.
Cinco de Mayo (Spanish for "fifth of May") is a celebration held on May 5, surprisingly enough. It is celebrated regionally in Mexico, nationwide in the United States, and is a big occasion down here at the beach. The date is observed in the United States as a celebration of Mexican heritage and pride to commemorate the cause of freedom and democracy during the first years of the American Civil War.
What does it mean to me?  It's a super duper excuse to go Mexican for the night and believe me I don't need an excuse. What's the best place to celebrate Cinco de Mayo here at the beach? Well this is right up my street. I guess it depends on your mood and whether margaritas are important to you. Margaritas are imperative in my family as my wife loves them!
My go to suggestion has to be Moe's Southwest Grill. I think I could honesty eat Moe's everyday of my life. Queso and chips are stupendous and I rarely leave with my food under my arm without rummaging around for the chips straight away. Plus how can you not like a place that shouts out "WELCOME TO MOE'S" every time someone enters. Scared the wits out of me the first time I went in! My favorite menu item is the Joey with steak, rice, peppers, mushrooms, queso and salsa. Moe's just added an app so you can order on your phone and avoid the queues! It might just be the best app ever! Although my MIL loves the Walgreens app for repeat prescriptions… She'll kill me for writing that.
My favorite spot for margaritas and dinner in Rehoboth has to be Dos Locos. They do pumpkin margaritas (Halloween season) and the misses loves them. Not my cup of tea but there you go. Great bar food and they have awesome Karaoke! Yes I participated and it was amazing. "I feel it in my fingers, I feel it in my toes…" and so the song continues! Classic.
My favorite Lewes spot is the crème de la crème of exquisite Mexican food and drink, Agave. There is no rival in my eyes. When they do their local gift card sale I'm at the front of the line and I hold my ground! Great location in the heart of down town Lewes and right next to Kings Ice cream. The food gods couldn't of placed them better even if they tried.
For the best happy hour experience ever there's Que Pasa in Dewey Beach. Catch the sunset drink margaritas and be on the beach… what could be better?
For a quirky and great value experience check out La Tonalteca on Route 1. You're not going to get a brighter decorated restaurant that's for sure. The location on Route 1 makes it easily accessible as well.
So where should you go?  Well, that depends on your mood and where you are I guess. From my Rehoboth community, The Avenue, you can walk to Dos Locos, eat and drink as much as you like, and walk it off on the journey home. From The Avenue you could also walk to the Jolly Trolley stop just behind Lingo Realty and ride over to Dewey Beach to catch Que Pasa for happy hour.
At The Villages at Herring Creek you're nestled nicely between Rehoboth and Lewes, although it's a bit challenging when you actually have to decide where to go! Whether it's a margarita in hand or a corona, it's always good to remember how blessed we are to live at the beach with such fabulous restaurants and bars to frequent! Cheers!