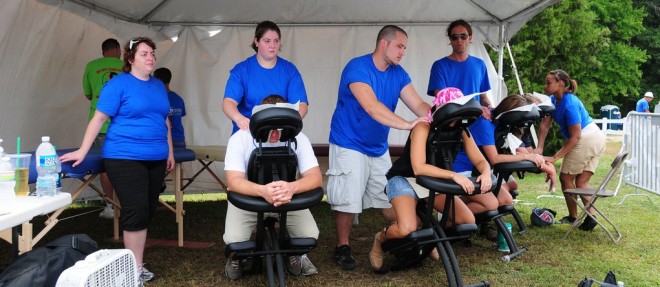 Janet Bly, a licensed massage therapist with Chiropractic Athletic Center in York, PA, and Clinical Coordinator at The Baltimore School of Massage has worked behind the scenes at Extreme Makeover: Home Edition before.
"I was contacted by Extreme Makeover: Home Edition for the Etters, Pennsylvania build and they asked me to do a massage tent there." Her connections came in handy when she thought of organizing a similar set-up at this week's Sussex County build. "The location manager from that site put me in touch with the location manager of this site, and I volunteered to organize one here," says Janet.
Among the volunteers is licensed massage therapist Kim Stockslager, lead instructor of the Harris School of Business' Massage Therapy program. "We require our students to do community service and outreach, so we were excited for the chance to come out to do this," says Kim.

Janet contacted area massage schools as well as her past employer, Dr. Garrett Herring of Acoustic Chiropractic in Milford to join in the volunteer effort. "I don't often get a chance to get out in the community, so I said, let me get out and do this, and give back," says Dr. Herring.
The enthusiastic massage therapists and students offered free massages to volunteers, while Dr. Herring has been performing chiropractic adjustments and acupuncture. The steady stream of volunteers flowing into the white massage tent shows once again that everyone, no matter how unique their talents are, can get involved and make a difference in the community.
"This is amazing," says Dr. Herring. "Awesome. Shockingly fast!" he adds.