Quick Move-In Price
$848,784
$799,900
$848,784
Includes lot cost.
Premiums may apply.
May require
structural options to meet minimum sqft requirements. Incentive shown is a combination of our community incentive and our Platinum Package Discount ($10,000). Speak to your Community Sales Manager for details.
Ready Now! The Chatham has room for everyone with a unique Family Center, Professional Kitchen with walk-in pantry, mudroom and dedicated study all in addition to the ample living and dining space on the first floor! The second floor primary bedroom features a walk in closet and luxury bath with an oversized shower. There are an additional three bedrooms, two full baths and the laundry room located on the second floor. The best part of this home? The finished walk-out basement! It's perfect for those get together with neighbors, or a cozy place to watch your favorite movie.
*ask our sales team for more information on how to secure the interest rate.
Receive up to $14,891 incentive from Schell Brothers toward closing costs applied at the time of closing when borrower closes by 12/29/2023. The incentive credit/offer is being contributed by the builder and is not an offer by Henlopen Mortgage, LLC. Borrower is responsible for closing costs incurred if the loan does not close and/or is not funded by Henlopen Mortgage, LLC. Borrower is responsible for closing costs incurred if the loan does not close and/or is not funded by henlopen Mortgage, LLC. A borrower may not use this offer to obtain a refund for closing costs in the event that a loan fails to close or fund. This offer cannot be used with any other discount or promotion. This offer does not apply to consumer loans. The buydown funds may come from the borrower, builders, sellers or another interested third party and is subject to interested party contribution limitations. (For VA loans, the buydown funds may only come from the seller, including builders). Additional rates, terms may apply and are subject to change without notice. Loan scenario assumes a loan amount of $799,000 on a 30-year loan with a down payment of 20% and $14,891 in points with a MIPremium of $0. Monthly payment of $4,851.86 and includes principal, interest, taxes, and insurance, but does not include HOA or other fees. Taxes and insurance estimates are subject to change. Program is available to well qualified borrowers. Rate of 6.99% (APR 7.105%) is fixed for entire 30 year term, but the initial payments are reduced based on the buydown benefit. The Buydown benefit discount for Year 1 is 2%, Year 2 is at 1%, and years 3-30 are no longer discounted. This information is not intended to be an indication of loan qualification, loan approval or commitment to lend. Loans are subject to credit and property approval. Other limitations apply. Rates, terms and availability are subject to change without notice. (112023 125307-5521)
Elevation
& Curb Appeal
A tremendous amount of time and effort goes into the exterior design of our homes. The exceptional curb appeal of a Schell Brothers home is not only a reflection of the quality and care that goes into the home but also a huge source of pride for our homeowners.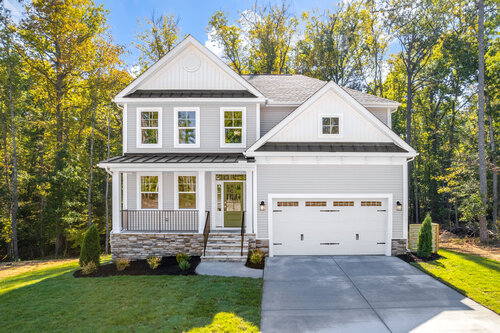 ▴
Basement
▴
1st Floor
▴
2nd Floor
Houston, we have a problem.
Generating visual delights...
Preparing the awesomeness...
The Chatham at NewMarket at RounTrey
15719 Cedarville Drive, Midlothian, VA 23112
(804) 924-9185
Get map directions
Hours
Monday-Tuesday

Closed

Wednesday-Thursday

10am-6pm

Friday-Saturday

11am-5pm

Sunday

12pm-5pm
COMMUNITY SALES CENTER
15807 Maclear Drive Midlothian, VA 23112