Hours

Mon-Sat

10am-5pm

Sun

11am-5pm

Phone

(302) 278-0587
Today's Incentive!
Receive a Free Professional Kitchen
Receive $7,500 toward membership fees.
Receive $10K of the base price on Townhomes and Villa lots or
Receive $30K off the base price of a Single-Family Home. *Additional "front 9" savings on select Single-Family lots.
*Ask salesperson for details.
×
Only 3 Villas Left
With only three villa homesites left, now is the time to visit The Peninsula and discover first-hand how truly magnificent this resort community is and learn how you can receive $10K off the base price. In addition to these incentives, you will also receive $7,500 towards your social membership and pay no club dues until 2020!
×
Shearwater Grand Opening!
Come see The Shearwater at its Peninsula debut! This floor plan offers numerous options including additional bedrooms and bathrooms, living area extensions, luxury master suites, finished basements, home theatres, and much more.
Saturday, November 3
from 12pm to 5pm
26937 Bay Farm Road, Millsboro, DE 19966
×
Why you'll love The Peninsula:
The only community located on the Indian River Bay and near the Delaware beaches, The Peninsula is a one-of-a-kind resort that combines beautiful homes with best in class amenities that fit your lifestyle.
This community has something for everyone! Private Jack Nicklaus Signature golf course, a state-of-the-art athletic club, indoor pool, and an outdoor pool with a poolside grill, a wave pool and sand beach! We also have three points of water access to the surrounding bay: the nature and exploration center with a kayak launch, our bay beach, and our floating dock and fishing pier.
Community Highlights
Homes from the low $300s to $3M+
Single-family, detached villas and townhomes
Gated community
Clubhouse with magnificent views of the golf course and Bay
Private beach with fishing pier and kayak launch
Indoor, outdoor and wave pools
Athletic Club & Tennis/Pickleball complex
Jack Nicklaus Signature golf course
Nature Center with 12 miles of walking trails
Community Sales Team
"Delaware is a great place to retire and it's close to our families."
Guy & Karen
Peninsula Homeowners
Hi there, I'm Sara.
Let me know if you have any questions about our communities or floor plans.
Schedule a Visit
Set up a visit to meet our team and learn more about the home buying process.
×
The Peninsula on the Indian River Bay Resort Living, Dramatically Refined in Delaware
At The Peninsula, you'll live each day the same way you travel - first class. The community combines exclusive residences and world-class amenities to create a premier East Coast resort environment. Everything about The Peninsula bears the autograph of excellence, from the Signature Jack Nicklaus Golf Course to the fine craftsmanship that defines your Schell Brothers home. Best of all, you'll live every day like you're vacationing in a five-star resort.
Distinctive Residences, Magnificently Crafted
Schell Brothers is proud to present the Coastal Series, an exclusive residential offering that combines striking exterior features with superb interior design. The gracious residences create the ideal resort environment, with open spaces, first floor owner's suites, luxurious kitchens, an abundance of windows, and spectacular outdoor living spaces. Your home will simultaneously welcome you inside to enjoy comfort and views, while inviting you outdoors to relax and entertain.
Play Video
Sailside You can live the good life
Introducing The Peninsula's newest neighborhood, Sailside, where you'll find five of our most popular single-family floor plans at the best single-family home prices in this community. View site plan
Our Coastal Series homes start in the $300s, which means now is the time to sail into life at The Peninsula!
Schedule a Visit
First-Class Amenities, Exquisitely Designed
At The Peninsula, first-class is a way of life. Every detail has been thoughtfully designed to fit your discerning sense of style. Live, dine, relax and play in a world-class resort environment. As an all-inclusive community, The Peninsula has it all, including a championship golf experience, professionally-designed tennis venue, full-service spa facility, and a theme park of children's activities. When you're ready to wind down, enjoy a meal in the Terrace Grille or relax on the scenic beach and pier. Treat yourself to a first-class experience right outside your door.
Clubhouse
Designed to take advantage of the striking views of the water, the Jack Nicklaus Signature Golf Course, and the surrounding environment, the clubhouse features an awe-inspiring architectural design that embodies the gracious character of The Peninsula.
The clubhouse features an awe-inspiring architectural design that embodies the gracious character of The Peninsula. As a focal point in Lakeside Village, this distinctive community showpiece will include fine dining and banquet facilities as well as a premier golf shop and full-service locker rooms. Outside, residents will enjoy an alfresco seating area and fireplace overlooking a spacious lawn with tent space that will accommodate up to 750 people.
18 Hole Jack Nicklaus Signature Golf Course
With a grand final hole proclaimed by Jack Nicklaus as "the Pebble Beach of the East," this magnificent course created by the golf legend-turned-architect strikes the perfect balance between aesthetics and playability. The 7,200-yard, par 72 masterpiece is the first private Jack Nicklaus Signature Design golf venue in Delaware, carefully constructed with a true respect to mother nature. The "Golden Bear" crafted seven scenic holes that hug the waters along the Indian River Bay and Lingo Creek, setting the stage for The Peninsula's unique Troon Golf Experience.
The PGA professional staff at The Peninsula is dedicated to growing the game of golf to include all ages and skill levels. Recently, The Peninsula partnered with the PGA of America and US Kids Golf to install two sets of "Family Friendly" tees, encouraging golf enthusiasts of all ages to enjoy the sport.
Activity Center

Lakeside Village is where activities abound and neighbors become friends. You'll find everything you need for fitness or relaxation, including indoor and outdoor pools, a state-of-the art gym, a professional tennis facility, basketball court and a full service spa. Golf enthusiasts will find a wide selection of appareal and equipment at the Golf Shop. When you've worked up a good appetite, the Terrace Grille is a good place to unwind with a delicious meal.

Nature Center

Stroll the boardwalks and enjoy stunning views of Lingo Creek and the ever-changing tidal marshes. Undoubtedly, the finest feature at The Peninsula is predetermined, and that is its magnificent natural setting. Wildlife, water features and striking vistas abound in the 225-acre Protected Nature Reserve that surrounds the Signature Jack Nicklaus Golf Course. Popular among people of all ages, the Nature Center is a beautifully-designed facility leading to decks, boardwalks and trails where you can spot bald eagles, cast fishing lines, launch a kayak or go stargazing.

Calmwater Spa

Relax, rejuvenate, and leave your worries behind. At the Calmwater Spa, you can schedule a traditional Swedish massage to release muscle tension or experience a more intense therapy through deep tissue massage. Increase your blood flow and achieve the ultimate state of relaxation through our LA Stone Therapy session. These are just a few of the ways we make our club members and guests feel at absolute ease here at The Peninsula. Review our list of services below and choose your favorite way to relax and indulge.

Tennis Complex

The Peninsula features a total of eight courts, including two Har Tru and six Premier Surface, at the exclusive tennis venue. Surrounded by fencing and pristine landscaping, the tennis and pickleball campus is expertly maintained, with overhead lights to facilitate nighttime play. Two of the courts offer stadium seating for a true championship experience. Whether you love tennis, pickleball or both, The Peninsula hosts matches, lessons, clinics, and tournaments that give you a variety of ways to get you swinging.

The community also has a snack bar, which is open from Memorial Day to Labor Day, and is located near the Wave Lagoon. You and your family can enjoy refreshing drinks and ice cream or, if you have a heartier appetite, you can grab a salad or oven-baked pizza before moving on to your next activity.

Athletic Club

Stay in shape at the pools, basketball court, and 2,500 square-foot fitness center. Everything has been specially designed for your comfort and convenience, including the Junior Olympic indoor pool and state-of-the-art fitness center with floor-to-ceiling windows and mirrors.

Outdoors, there are plenty of ways to maintain your fitness routine while enjoying the natural surroundings. The basketball court provides the opportunity to energize both your heart rate and your competitive spirit. Take a dip in the pool or splash with the kids in the Wave Lagoon. Enjoy a walk along the miles of picturesque trails -- both hard surface and natural -- that wind throughout the community. Then, grab your tennis racquet or golf clubs and head out to the courts or course. It's your choice. After all, life isn't only about indulgences. That's why The Peninsula provides numerous ways to keep you active and fit, indoors and out.

Terrace Grille Dining

At The Peninsula, you can enjoy a delicious restaurant meal without ever leaving your community. Start your day off right with a trip to the Terrace Grille for your morning cup of joe and a delicious omelet or breakfast burrito. Stop by for lunch and choose from a variety of menu items, including an Angus beef burger, turkey club or delicious, freshly made salad. At dinnertime, you'll find fresh seafood, succulent steaks and slow cooked meats, as well as seasonal salads and mouthwatering desserts. Choose a favorite beverage to complement your meal, including selections from our extensive list of wine, beer and cocktails. As a full-service restaurant, the Terrace Grille also hosts events such as tastings and cooking classes, and you may contact the staff to cater your private events.
Coastal Adventures, Conveniently Located
When you decide to venture beyond your community's luxurious entrance, you'll find a long list of East Coast treasures beyond your door. The choice is yours: plan an exciting getaway to New York, Philadelphia or Washington D.C., or stay closer to home and stroll on the Rehoboth boardwalk after a bike ride along the canal in Lewes. Located on Delaware's picturesque Indian River Bay, The Peninsula is the ideal place to begin any adventure.
Explore Local Gems
Lewes
Lewes is perched in that sweet spot where the Delaware Bay and the Atlantic Ocean meet at Cape Henlopen. You'll find bayfront beaches and ocean wonderlands that are perfect for swimming, picnicking, and all types of fishing or boating pleasures. With over 4,000 acres of preserved lands in Cape Henlopen State Park, it's overflowing with beautiful beaches, miles of nature trails, bird sanctuaries and an education center. There's even a frisbee golf course set among spectacular dunes.
After a day at the beach, head into town where you'll discover a variety of fun, all within a half-mile square. Lewes is a walking town, so be sure to visit the historic district, with beautifully preserved homes, quaint museums, and over 40 full-service shops and boutiques. Lewes has festivals that celebrate kites, tulips, and everything in between. Want to relax and settle in for a while? You'll find a variety of restaurants and pubs where you can enjoy a fantastic meal or a lively evening with friends. Lewes is a year-round community with fun-filled days, enchanting nights, historic views and natural beauty everywhere you look.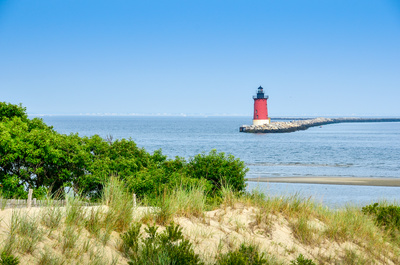 Rehoboth Beach
Known as the "Nation's Summer Capital," Rehoboth is a beloved seaside location that has maintained its genuine small town character. Its mile-long boardwalk is as loyal as a longtime friend. Come for an early morning jog, a midday shopping spree, or an evening stroll. The boardwalk has something for everyone, any time of the day or evening, through all the seasons. When you're not walking, jogging, riding your bike, or sunning near the picturesque beach, you'll find plenty of activities to keep you busy. Play a round of miniature golf, spend some time in the arcades and amusement park, or relax and listen to lively music at the Pavilion. Browse the shops and galleries before enjoying the meal of your choice. Rehoboth offers everything from world famous French fries to ultra fine dining.
There is much more to Rehoboth Beach than summer activities. Throughout the year, the town plays host to a variety of festivals, including the Autumn Jazz Fest, an Independent Film Festival, the Sea Witch Halloween & Fiddlers Festival, a traditional Hometown Christmas Parade, and the Chocolate Festival. Imagine that--a whole event, devoted to chocolate!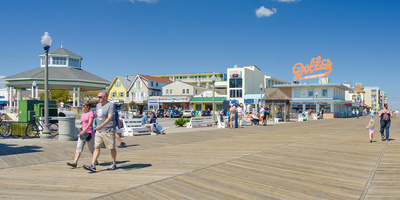 Dewey Beach
Dewey Beach is ideally located between the Atlantic Ocean and Rehoboth Bay, so the water is never more than a minute away. You can watch the sun rise over the ocean and see it set on the bay. Best of all, packing for a trip to Dewey is easy. Just toss in some shorts, a bathing suit and flip-flops, and you're on your way! The beach at Dewey was one of just four coastlines in the U.S. to achieve Superstar Beach Status from the Natural Resources Defense Council, as announced in June, 2011.
Looking for something to do? Start the day with some windsurfing or paddleboarding before creating some sunset memories of your own. Relax over dinner and margaritas at Que Pasa while you watch the sunset with your toes in the sand. Later, Dewey gets rolling just when some of the other towns are winding down, with top-rated musicians and lively clubs. Find out why the Bottle and Cork is known as the greatest rock and roll bar in the world. Enjoy orange crushes and Bloody Marys at the Starboard and return to share the night's best stories over a memorable Sunday brunch.
Bethany Beach
Bethany is laid-back and comfortable. From the time you arrive, you'll feel right at home. Located along a gorgeous stretch of the Atlantic Ocean in the southeastern corner of Delaware, Bethany has a quaint little boardwalk of its own. Just a half-mile long, this pleasant stretch of joy offers ample opportunities for picturesque views and friendly conversations.
There's plenty for everyone in the family, with boutiques, restaurants, beach volleyball, video arcades, and boardwalk strolling. The summer season is filled with events, including ongoing concerts and performances on the boardwalk bandstand, the annual Fourth of July Parade, the Bethany-Fenwick Chamber of Commerce's annual Boardwalk Arts Festival, surf fishing tournaments, and saltwater & freshwater charter boat fishing trips. The water is warm enough for swimming from late May through early October—some brave souls even take a dip in January!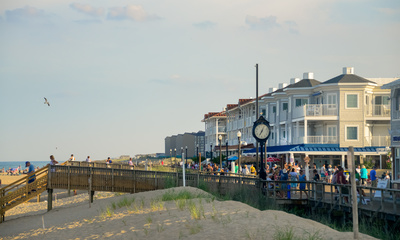 Explore
the Area
Restaurants
Shopping
Entertainment
Healthcare
Grocery
Schools
The Peninsula
26937 Bay Farm Road, Millsboro, DE 19966
26937 Bay Farm Road
Millsboro, DE 19966
Open map
(302) 278-0587
Mon-Sat

10am-5pm

Sun

11am-5pm
Hi there, I'm Sara.
Let me know if you have any questions about our communities or floor plans.
Today's Incentive
NEW Sailside Single-Family: $10k off base price, 1 year NO Fees & $7,500 towards club membership
Marina Bay Villas & Townhomes: $10k off base price, Free Professional Kitchen & $7,500 towards club membership
Lakeside & Marina Bay Single Family: $30k off base price, Free Professional Kitchen & $7,500 towards club membership
We also pay 1/2 of your transfer tax.
Learn More
Base price includes lot cost. Some lots have
additional premiums.
Some plans may require structural options to meet minimum sqft requirements.
* Some restrictions apply. Subject to change without notice.
Available Villa Homesites
Model Homes The Peninsula
Interested in seeing The Peninsula in person? Visit one of our model homes shown below.
×