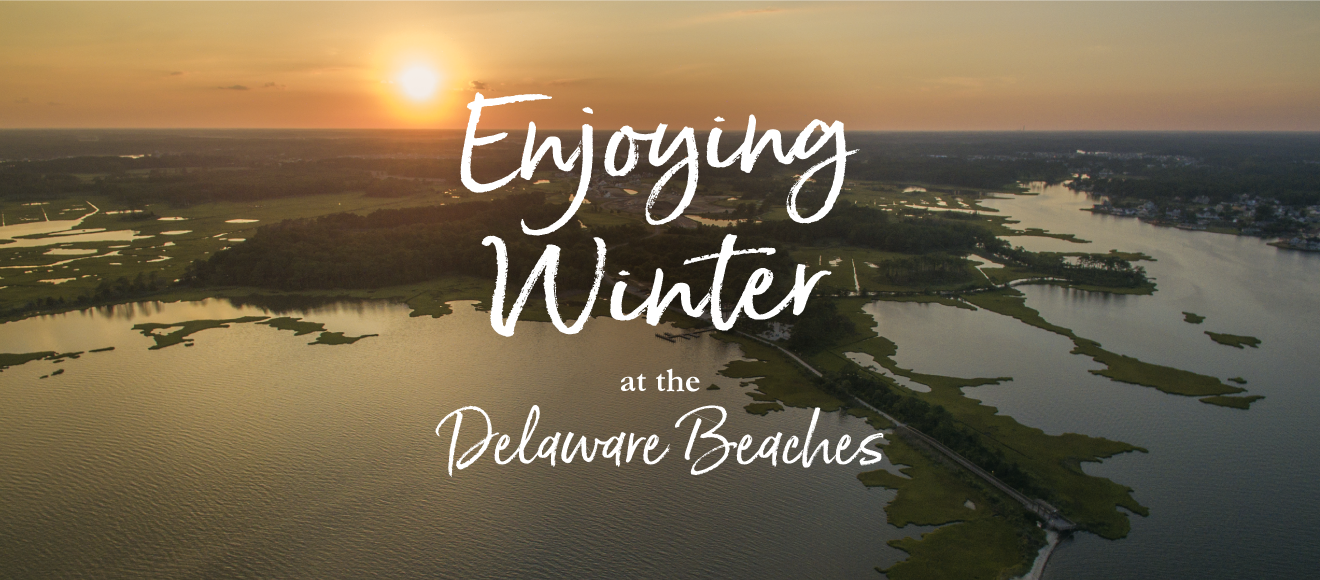 Oh winter. The shorter days and the colder weather can be a struggle for many of us, leading to a nagging wish for those beautiful spring and summer days to arrive sooner rather than later (we're looking at you Punxsutawney Phil and your 6 more weeks of winter…). Despite the mid-winter itch that so many of us are feeling, there are actually many, many reasons to embrace the winter months here in our resort towns and revel in the winter activities at the Delaware Beaches.
Off-season Specials (and off-season crowds): That's right, the absence of summer means the absence of summer crowds. Less traffic, free parking, and no waiting for a table at your favorite restaurant – woohoo! It also means off-season specials are on tap at your favorite local spots, from weekly specials at Summer House in Rehoboth to irresistible dinner deals at Bluecoast in Bethany Beach, there are countless options for scoring a delicious deal this month. And for a full rundown of the best deals at the beach, check out this exhaustive list.
Getting Outdoors: You may not have wanted to venture outside during those super cold days we experienced at the beginning of the year, but our typical Mid-Atlantic weather has returned, which means plenty of sunny days in the 40s or 50s. No, it's not beach weather, but throw on a cozy scarf, hat and jacket and you're all set for an outdoor adventure. The best part? The gorgeous local parks, beaches, and hiking trails are just as beautiful during the winter months, but with the added benefit of having them all to yourself! If you haven't noticed how breathtaking our Coastal Delaware sunrises and sunsets are, than you are seriously missing out. Get outside, take in the crisp, fresh air, and revel in a sunrise or sunset – you won't regret it.
Arts…: For your local art fix, look no further than the Rehoboth Art League. Not only does the local organization feature an amazing lineup of events and exhibits year-round, but they also host classes that will keep you busy and inspired. Sketch group, pottery studio, writer's group, jewelry making, mommy & me classes…you name it, they've got it.
& Entertainment: Along with local arts, enjoy local theater by way of Clear Space Theatre. Offering classes and shows, it's the perfect cure for the wintertime blues. Check them out this weekend, February 9-11, as Clear Space Theatre presents 'Baskerville: A Sherlock Holmes Mystery'. Or head a little further inland to the beloved Milton Theatre where you'll find an array of music, movies, comedy, and theatre.
Tax-Free Shopping: By now you've probably heard the good news about tax-free shopping in Delaware; after all, it's a pretty sweet deal for our fellow shopaholics. With fewer crowds this time of year, it's the perfect opportunity to score the best deals on your favorite name brands (tax free!) at the Tanger Outlets in Rehoboth. And with President's Day Weekend just around the corner, you can bet there will be some fantastic sales worth venturing out for.
Day Trip Adventures: Still bored? How about hopping in the car and taking a trip to one of the charming local towns across the Delmarva Peninsula. Just over the state line you'll find 'America's Coolest Small Town,' Berlin, but there's also Easton, St. Michaels and Oxford not far from home on the Eastern Shore of Maryland. Or take this time to explore the towns you drive thru regularly but never fully explore. Rehoboth Beach, Bethany Beach, Lewes, Milton, Milford, Fenwick Island…all of our coastal towns are teeming with hidden gems for you to discover, from local eateries to eclectic shops to historical stops along the way.
Drink Up: For the beer lovers out there, Delaware is overflowing with local breweries to visit and tour, including Dogfish Head, Mispillion, 16 Mile, Big Oyster, Dewey Beer Co, and Crooked Hammock. That's a lot of beer to sample…
Ready to get out an explore all that Coastal Delaware has to offer? While you're out an about, feel free to pop by our new home communities for a tour – or to say hi to our sales team out at their beautifully decorated model homes:)