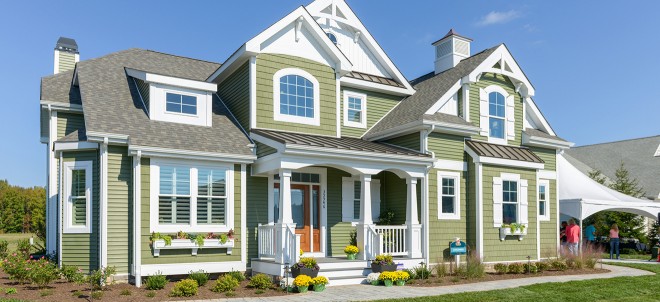 Jordan and I love our new Kingfisher model at Sawgrass North.  We really do.  In fact, so much so that we've decided to extend our hours and open our model for our new event we're calling Schell Locals Night!
Our Kingfisher is amazing and with all our interior and exterior lighting, the model experiences another layer of beauty when the sun goes down. Admittedly, no one gets to see our model at night. That's about to change. We're excited to show off the model 'after hours ' and host our local community and any visitors that drop in.
We're BIG advocates of supporting local businesses, so we're working closely with a number of Rehoboth businesses to put on our Locals Night. At the moment, we have three events booked before the end of the year! Honestly, we could have booked every night this month based on the enthusiasm we've had from local businesses.
The events start on Friday, November 21st with Outlet Liquors. From 5pm to 8pm, we will be combining wine tasting with Dave Hill from Outlet Liquors and food from Touch of Italy. Dave is the wine manager for Outlet Liquors, but also just an all around wine god! This guys know his stuff and, unlike me, doesn't just pick wine off the shelf according to how nice the label looks.
Next we're super excited to be hosting Jane & Georgie, a ladies' clothing business on Rehoboth Avenue. On Thursday, December 4th from 6pm until 9pm, Kate will be hosting a trunk show at the model. Just before Christmas so we can all shop 'till we drop. SoDel Concepts will be providing some food for us, and I'll be serving drinks in my tuxedo. Kate is a Rehoboth fashionista, and I know I'll be in trouble, or at least my wallet will be, if the wife manages to book a babysitter for that night.
Dave from Outlet Liquors will then be back with us on Friday, December 19th for our second wine tasting event, where we will be toasting the holidays in full cheer.
We're looking forward to hosting our Locals events and growing this series to incorporate more local businesses in the future. It's always important to shop local, especially in the off season. Everyone is welcome to join us for these events – the more the merrier. Sawgrass likes to party, so I have no doubt there will be plenty of laughs, stories, and pictures to share. Mark your calendars!
Cheers, Adam