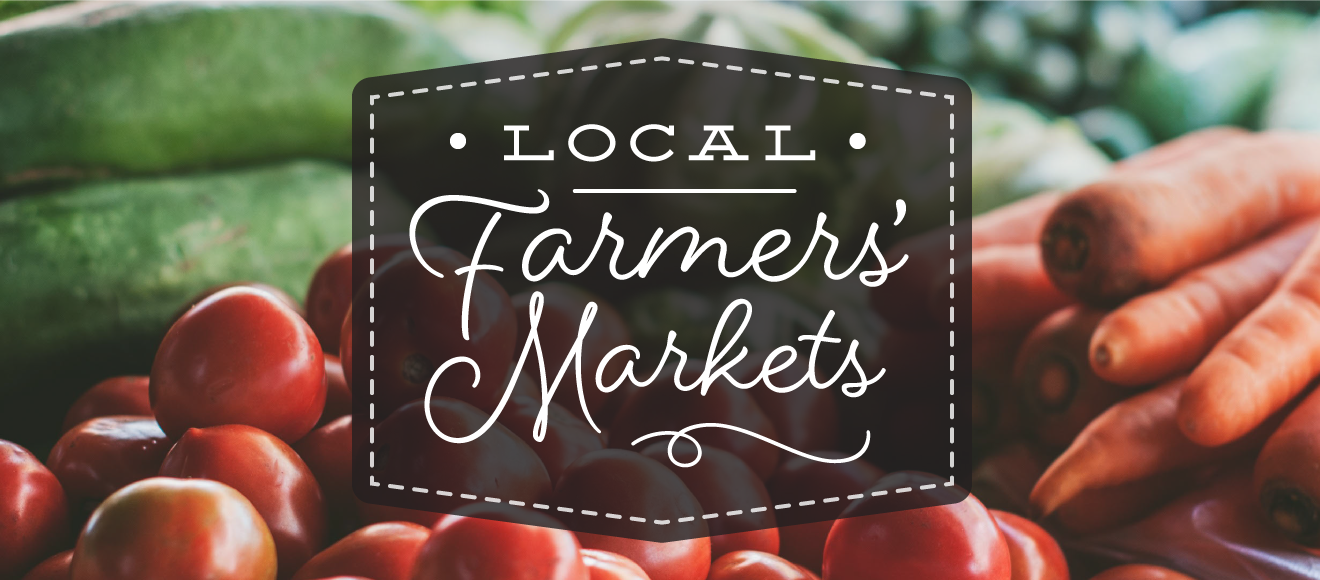 A sure (and very welcome) sign of summer is the familiar sight of a good old fashioned farmers' market. The brightly colored veggies, the delicious breads and jams, the sweet smelling flowers…I love it all! Not only is a trip to the farmers' market the perfect summer outing, it's also a great way to truly shop local by way of our region's small farms and businesses. Take a look at three of our favorites and pop by this summer for your own taste of local flavor. And for those of you in Schell communities, you're in luck, they're just a quick trip from your front door!
Strolling through the Rehoboth Beach Farmers' Market is my favorite way to spend Tuesday lunch breaks during the summer months. Held from 11am-3pm at Grove Park in downtown Rehoboth, there is certainly no shortage of delicious food to sample while shopping, or to take home for dinner! Take Anita's Guacamole, which boasts a savory guac with a hint of lime, as well as a mango salsa with just the perfect kick. I always sample both before deciding of course;) Or the Lavender Fields stand, where you'll find a unique collection of lavender infused soaps, sleeping masks, and even baked goods. Yes, you heard correctly there – the lavender macaroon is delightful! I thought I had plenty of potted flowers for the summer until I came across the bright zinnias and sunflowers at Ficner's Family Farm stand and had to grab a few for my patio. The RB Farmers' Market website is also a terrific resource for cooking and entertaining, with recipes to try using this month's seasonal produce!
The Historic Lewes Farmers' Market caters to both weekend and weekday warriors, with both Saturday and Wednesday options. Their Summer Saturday Market is held 8am-noon in George H.P. Smith Park (close to downtown Lewes) and the Market at Crooked Hammock is set up across from the brewery on Wednesday mornings from 8-11am. Expect a mini-version of the Saturday Market on Wednesdays at Crooked Hammock, with a smaller sampling of local goodies. I like to pick up vegetables from Totem Farms for a fresh weeknight dinner, with a few (ok, maybe a few dozen) apple cider doughnuts from Fifer Orchards – seriously, you've never tasted anything like them! The Summer Saturday Market packs a bit more punch with over 30 vendors to peruse. Stop at Surf Bagel's stand first to grab breakfast and a cup of coffee to fuel up for shopping. And for the perfect gift for out-of-town guests, hit up Backyard Jams & Jellies, also home to some pretty fantastic Mango Hot Pepper Jelly.
The Nassau Valley Vineyards Farmers' Market is definitely my go-to for a lazy Sunday afternoon. The atmosphere is a bit more relaxed than the usual hustle and bustle of a farmers' market and suits my Sunday vibes just right. Held from 12-3pm with over 20 vendors set up on the vineyard grounds, I particularly enjoy browsing through the stands before grabbing lunch from one of the many tasty options…paired with a glass of sangria of course! The accessible seating among the trees and live music will keep you lingering long after you've made your last purchase.
Further south in Bethany Beach, the Bethany Beach Farmers' Market just kicked off it's 12th season, and will be serving up delicious local fare until September 2nd. Held Sundays across the street from the PNC Bank on Garfield Parkway and Pennsylvania Avenue, you can stock up on everything from flowers to cheese to bread. Popular vendors like Magee Farms, Bennett Orchards, Old World Breads and Well Berry Farm are typically on scene, providing everything you need for a Sunday picnic. Even better, you can stop in your favorite shops along Garfield Parkway when you're done, or hit the boardwalk for a relaxing morning stroll.