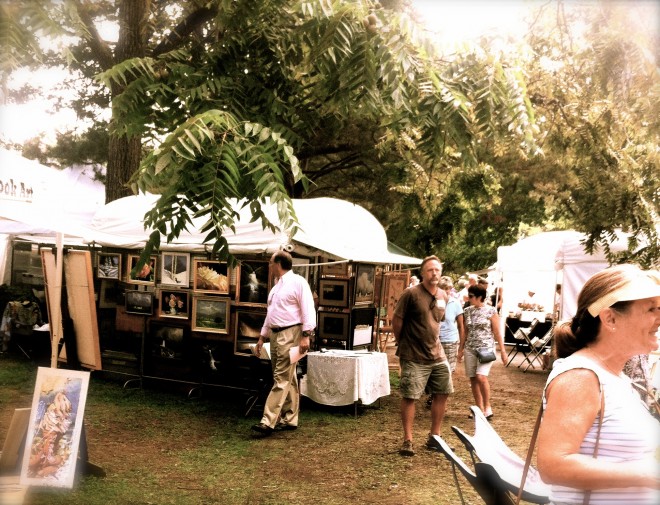 My mom is an amazing painter, so last Sunday I was delighted to be invited to attend a special event hosted by the Rehoboth Art League – the 39th Annual Outdoor Fine Art and Craft Show in Rehoboth Beach.
For me, Rehoboth Beach is an "art community" and the Rehoboth Art League is the great inspiration behind this, since being founded in the late 1930s. The Annual Outdoor Fine Art and Craft Show is typically hosted over two weekends in August on the Art League's 3.5 acre campus in Henlopen Acres. If I could "paint a picture" of the scene… it's natural and very pretty, set in a wooded area with views of the water and docks… I could see boats going in and out. This property is the year-round home to several galleries showcasing local and national artists, thriving classrooms and historical buildings.
If you are reading this before August 18th or 19th, you can catch the second and final weekend of the show! The event showcases high quality paintings (acrylics, watercolors, oil painting and charcoal), photography, jewelry and crafts from over 100 pre-selected artists based out of the Mid-Atlantic region.
The atmosphere is very relaxing. It's wonderful to walk down the little paths, view the art, talk to the artists, and grasp how talented someone can be. I had the privilege of meeting Jerrod Ranney, a local oil painter who I could describe to paint the scenes of "everyday life" that we may overlook, for instance. I noticed a cool new art trend as well called "Reclaimed Wood Art," which involves repurposing wood for a design.
I was delighted to see some new faces playing live jazz, blue grass, and folk music. Not to mention how impressed I was by a very young, but very talented pianist.
Root Gourmet and Nage, two local restaurants, are catering the event with several types of sandwiches. The side of pasta salad that I had with my chicken-salad wrap was delicious! Baked goods and pastries are being provided by Bakery Shoppe and coffee by The Pointe Coffee House.
Echelon Custom Homes, Tidewater Mortgage, Ocean Atlantic Sotheby's, and Schell Brothers are sponsoring the show, so we have a booth set up (#28). We have a wonderful painting that people can enter to win in a raffle… the winner will be drawn at the end of this weekend! On Sunday I attended on behalf of Schell Brothers, and spent some time talking to patrons about the companies that we represent and answering any questions that they might have about what the differences are between them. I also had the pleasure of meeting some Schell Brothers and Echelon homeowners, who stopped by to say hello. Everybody was so nice!
So don't miss this weekend's show. Feel free to stop by our booth because we will be glad to meet you! You can also sign up to win the painting by Carol Gray. For more information about the show please call 302-227-8408.