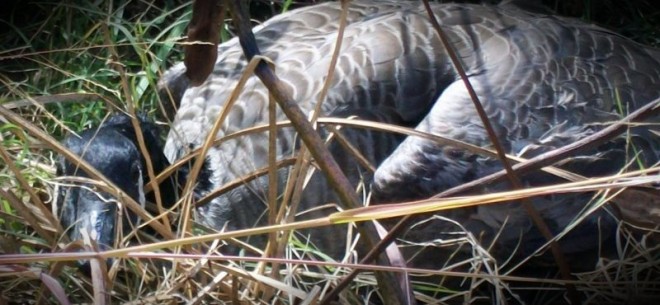 I wanted to share my happy story with you. It didn't involve a sale, or money but more importantly — a life! He's………. a goose! I have named him, Merlin, after his miraculous escape (and a well known film). I thought Maverick was way too corny.
The incident that has changed my life forever occurred yesterday at around 12pm. Merlin got himself trapped in the Breakwater pond behind the show model. I was just about to strip down to my socks and jump in and save him when I rang Envirotech (kudos to Jordan). Whilst waiting for Envirotech to arrive, I kept Merlin company and tried to reassure him. The poor guy was beside himself with worry and I could tell time wasn't on his side. He needed to catch up with his buddies but he desperately didn't want to ruin his wing. He was caught between a rock and a hard place, that was for sure.
The line was finally cut but Merlin had violently twisted the wire into his right wing. Instant surgery was needed. The wire was finally removed and Merlin scampered, not from me, but from the other two guys. With all the shock he scurried into the shrubs and laid low. He finally nodded his head at me in recognition and scampered across the pond. Shortly afterwards, he plucked up the courage and pumped his good wing and his fragile wing, to soar upwards and into the freedom of the open sky.
A life saved is a life gained!