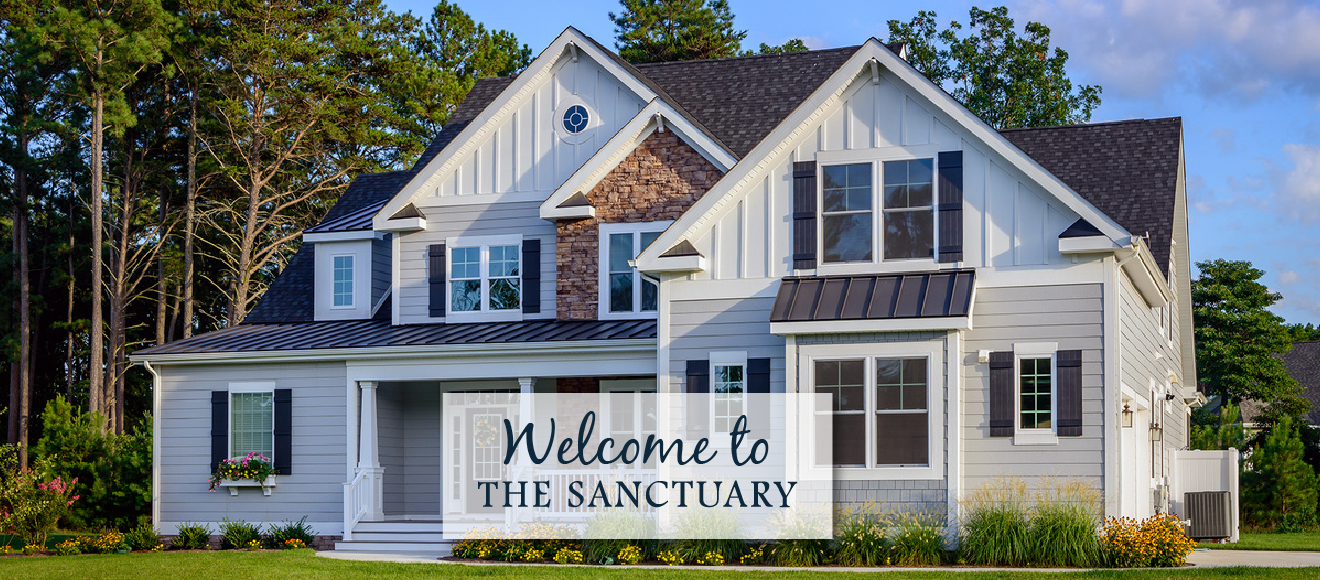 With our model home underway in The Sanctuary, and two models now available in Palmilla at Magnolia Green, it's been a busy summer's end here in Richmond, with fall ramping up to be a whirlwind at both of our RVA new home communities. Simply stated, it's the perfect time to get to know The Sanctuary! It's also the perfect time for a little Q&A with our Community Sales Manager Jennifer Jinnette, including a rundown on her favorite floor plans, the hottest trends in new home construction, and some more details on those oh-so-spacious lots in The Sanctuary.
1. Marketing and sales talk aside, what do you think makes The Sanctuary so unique? 
The Sanctuary is just what its name means: a place of refuge, an oasis, a retreat. It's a community where you have the space that you need to live the lifestyle that you've desired.  Located about 20 minutes to Downtown Richmond, you'll find 1-acre private homesites situated in a tranquil community.  You can get away from the traffic, the noise, and living on top of your neighbors while still having the conveniences of living only a few miles miles from Target and Westchester Commons Shopping Center.  You can have the privacy and space to build your own pool, to let the dog run around, or to have friends over to your beautiful new home, all without worrying about neighbors that limit your freedom. 
2. Let's talk some more about those lot sizes…
Drive through any other community in Midlothian, Chesterfield, or Richmond, and you'll find homesites that average around a quarter of an acre or less. Drive through The Sanctuary, and you'll see trees, freshly manicured lawns, and plenty of space, with every homesite at least 1-acre. Whether you are looking for something without trees so that there is plenty of space to run around, or you want to be as nestled in the woods as possible, we have the large, private homesites that you've been looking for, at a fraction of the cost of other builders in the area.  Imagine what you could do with all of that space!  Build one of our beautiful courtyards with a built-in grill and fireplace.  Enjoy nights under the stars.  Swim in your private in-ground pool, or escape the winter in your bubbling Jacuzzi hot tub.  Fence in your backyard and let the kids and pets run and play.  Build a tree house, install a swing set, or both.  Grow your own vegetables in a garden!  The list really do go on and on (and on).  But at the end of the day, this is your space, how would you use it??
3. Of course it's always about 'location, location, location' when we're talking real estate. Tell us a little bit about the location of The Sanctuary and what's nearby. 
The Sanctuary is located just 2 miles off of the Midlothian Turnpike and adjacent to award-winning Hallsley.  The top-rated Midlothian schools are another reason people choose this location, and what's more, the new Old Hundred Elementary School will be just across the street!  
You're a quick drive to Mid-Lothian Mines Park and Robious Landing Park.  Get outdoors and kayak in the James River or take a scenic hike.  Show your competitive side at Windy Hill Sports Complex, which is less than 3 miles away, or enjoy an afternoon of golf at a nearby course. Spend the day shopping for antiques at one of the local shops.  Want to head out of town?  Easy, you're just 2 miles to Rt 60. 
4. With so much happening nearby, what's your favorite? Any food spots we can't miss? 
Richmond is obviously a can't-miss for a fantastic meal, but you don't have to drive into Richmond if you're not up for it because we have plenty of delicious restaurants close by.  Try Bell Greek for some delicious, authentic Greek food.  My favorite is the Spanakopita.  Tazza is fresh, tasty, and has a wide variety of options on the menu with inventive ingredients, such as Summer Squash Pizza, Arugula and Goat Cheese Salad, and Smoked Brisket Tacos.  If you're in the mood for Asian cuisine, try Wild Ginger.  From fresh sushi and kobe beef burgers to vegetarian options like teriyaki tofu, the flavors here are amazing!
5. Describe The Sanctuary in 3 adjectives: 
Serene
Private 
Unforgettable 
6. Let's switch gears and talk industry trends. What are people looking for right now in a home in Richmond?
A  trend that we are definitely seeing is that people are spending more time outdoors as an extension of their home.  People are falling in love with our courtyards, which can include a fireplace, built-in grill, and/or water feature.  I'm also noticing a lot of people opting for our 2nd story decks and screened in porches. It's just another way to enjoy your home, both indoors and out. 
7. In your opinion, what sets a Schell Brothers home apart from other builders? 
Oh boy, how much time do you have?? The short answer is that at Schell Brothers, we are on a mission to bring happiness to people and of the ways that we do that is by building a longer-lasting and more energy efficient home that will bring you happiness for years to come.
But of course there is a lot that goes in to that, but a few examples of the difference in our construction compared to other builders is that we use 2×6's instead of 2×4's in the exterior walls.  This allows us to put 63% more insulation in the walls of your home, which makes a huge difference in heating and cooling costs.  We also build our homes on site, with California corners.  A typical 2×4 corner leaves a pocket in the corner of your house that does not have insulation.  Our 2×6 California corners mean that there is insulation from the roof all the way down to the foundation.  We use blown-in blanket insulation with a higher R-value than the typical builder.  All of our crawl spaces are conditioned and even include sump pumps, to insure moisture stays away from your home.  On average we are over 50% more energy efficient than the typical builder.  Clearly I could go on and on;)
8. If you had to pick a favorite floor plan at The Sanctuary, which one would it be and why? 
My favorite plan is The Bridgeport.  It is incredibly versatile and personally would give me and my family everything that we want and need:  two owners suites, one upstairs and one downstairs, the latter of which we would use for out-of-town guests; a screened-in porch off of the dining area, with a deck above coming off of the master bedroom; walk-in closets in every bedroom, including dual walk-in closets in the master; and a huge kitchen open to the great room and dining room that is perfect for entertaining.  I also love the open to above great room, perfect for the biggest Christmas tree I can find!
9. What's the must-have selection in new homes right now? 
Quartz is definitely making a comeback!   Granite has been king for a while, but people are loving all of the beautiful varieties of quartz that we offer, and how low maintenance it is. Basements are also a must-have for many people in our area.  We have basement options, both finished and unfinished, in every floor plan that we offer!  We can even do in-ground basements so you can have both a basement AND a flat yard.  
10. Final thoughts? 
We are truly so excited to be able to offer the Schell Brothers brand in this market.  I personally can't wait to be a part of showing people the Schell Brothers difference and seeing their dream homes become a reality.  It may sound cliche but we truly are different, both in the quality and selections in our homes, but also in our state of mind, and I think you'll notice that difference right away. But hey, see for yourself – stop by and check out what makes us unique!
For more on The Sanctuary, simply click here.
To contact Jennifer, reach her at (804) 402-4505 OR visit her at our brand new model home in Palmilla at Magnolia Green, where we'll be until our model home at The Sanctuary is complete this fall: 7006 Silverthread Drive Moseley, VA 23120