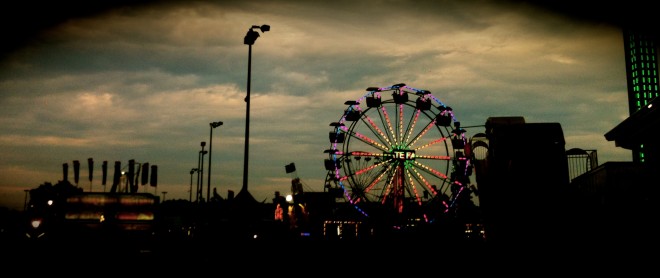 Last week I went to the 93rd Annual Delaware State Fair in Harrington and this is by far the most "American" thing I have ever done. I loved it!
The Delaware State Fair "comes to town" every year for ten days in late July. The fairgrounds, over 300 acres located on RT 13 (South DuPont Hwy) in Harrington, DE, is home year-round to the Harrington Raceway & Casino, and during fair week hosts a giant carnival, concerts, vendors, rodeos, agricultural exhibits, competitive exhibits (animals, culinary, hobbies & games, home arts, youth), free entertainment and so much more!
This year the fair admission was $6 (children 9 and under are free), but thanks to my friend's advice to sign up for a Harrington Raceway & Casino Player's Club Card a few days prior, I not only took a fancy limo bus from the parking lot to the gate, but I also received free admission into the fairgrounds.
Once we were inside the gate, my friends wanted to go on rides. I have to admit that I was a bit scared to spin round and round at high speeds on amusements, because the last time I got on a ride I was only 8 years old. But, hey, I figured I should be a kid again! After I rode the first ride, I wanted to try every one.
I almost drew the line though, when I saw "The Mega Drop," which literally drops you from the top of a large vertical structure about 115ft to the bottom. After some convincing on my friend's part, I decided to go for it! I sat in a seat on the center structure, pulled the bars down over my head, and then the ride attendant told us to hold on. The "cab," slowly made its way to the top. I started to realize how high up we were we going and I almost freaked out. But then for a moment, I was calm and distracted by a breathtaking view of the entire fairgrounds. By night I can only imagine how spectacular this view is with all of the lights! All of a sudden, before I knew it, I got that funny feeling in my stomach, a rush in my head, and we were in fact free-falling from the top. In an instant all of my fears were over when we made landfall because this ride was awesome!
If you are not a big fan of speed, and want to see an aerial view of the grounds, I would opt for the Ferris Wheel.
I thought it would be a wise decision to wait and eat after we rode the rides. If you are a "Food Lover" like me, it can be very hard to choose what to eat at the fair. Delicious food is everywhere! Corn dogs, crabcakes, pizza, shish kabob, sausage, funnel cakes, kettle corn, French fries, deep-fried Twinkies, Oreos and pickles, candy apples, cotton candy. They even had French crepes. It was very hard to choose!
I decided to buy a Greek platter that included chicken on a stick, grilled peppers and onions, Greek-style rice & salad, and a cucumber sauce. Although I was full from eating the entire platter, I convinced myself that I had to eat dessert. I love cinnamon, so I ate the biggest cinnamon bun I could find. So yummy! Inside the Harrington Raceway & Casino there is also a delicious buffet featuring American, Italian, & Chinese, carving station, seafood, salad bar, dessert bar, and so much more. During fair week, the buffet even had an ice cream station with ALL kinds of ice cream and every topping you can imagine, even sprinkles!
Although the food was my favorite part of the Fair, it turns out the largest part, and also the cutest part, is the animals' exhibition. All the barns are open to the public, so you can walk through and see all the livestock such as cows, sheep, pigs, goats, chickens, birds, horses, and rabbits. I pet the sheep and they were so cute and soft. I saw a cow getting milked. There was even a specialty "Big-Top" tent with a giraffe as the main attraction. I was so happy to see a giraffe up close and I even got to feed him some carrots! I took a lot of pictures of the animals.
Next to the cow barn was a Mechanical Bull ride, which definitely drew a crowd. My friends dared me to get on it, but I preferred to watch everybody else try to ride it for 8 seconds. Speaking of bulls, there was also a Rodeo in a large arena on the fairgrounds with horses, crazy bulls, cowboys and even funny clowns. I really wanted to go to this, but I missed it! So, I hope one day to have another opportunity to see this.
In the distance I could hear the soundcheck at the grandstand. Every night at the M&T Bank Grandstand there is a concert, derby, or harness race. This year the fair had a great entertainment lineup – Miranda Lambert, Casting Crowns, Styx & Cheap Trick, Sugarland, Justin Moore, and Jason Aldean. I was fortunate to see Jason Aldean in concert on Wednesday night and must say his voice and show are amazing! Everybody was dancing with their hands in the air, singing to his songs, and screaming for him! It was worth every penny!
After the concert let out, we walked over to the outside bar at the casino to have a drink and relax. We didn't go inside and gamble, but if you wanted to, there is Poker, Craps, Roulette and hundreds of themed slots. We sat outside on the patio and listened to a cover band play great music. As the night went on, more people packed into the bar area and danced the night away.
The Delaware State Fair is the perfect place to enjoy time with your family and friends. The atmosphere is great because everybody seems to have a smile on their face – it's a dream for kids and a wonderful time for adults alike. There is something about that place where I am happy just walking around, watching the people, and smelling the food. And most importantly, the Delaware State Fair is the only place I know where you can win a life-sized Spongbob by busting ballons with a dart.