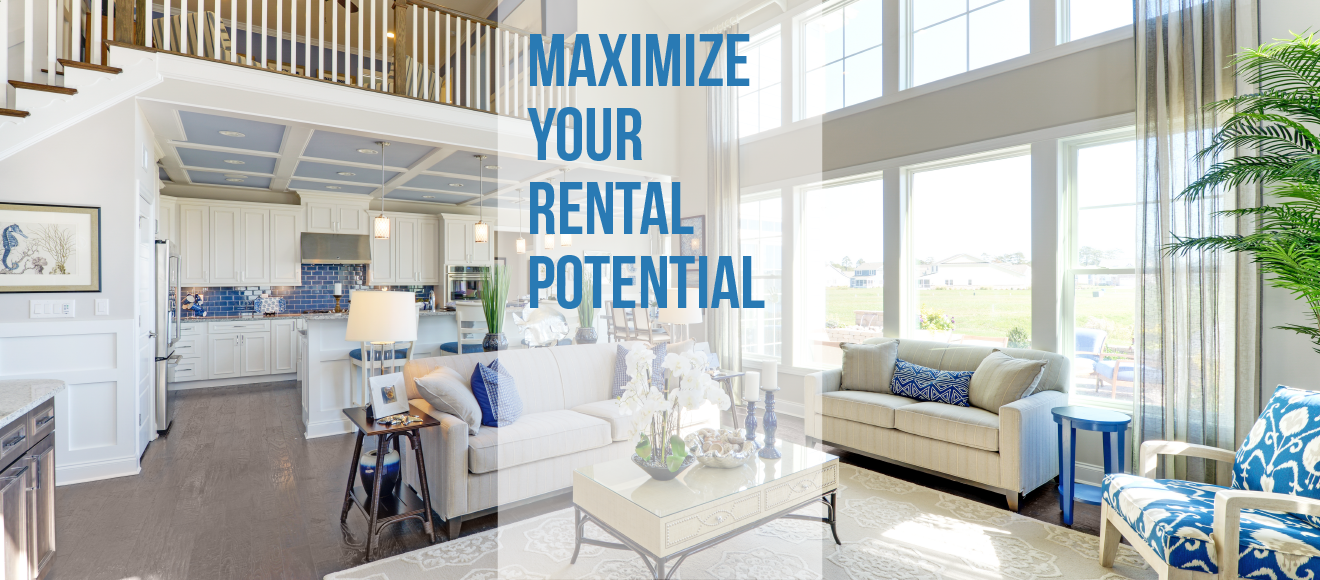 Thinking about purchasing an investment property? Want to know how to maximize your rental potential? We've teamed up with Christy Conaway from ResortQuest by Wyndham Vacation Rentals, leader in rental management at Bayside, to provide you with some helpful hints on how to set your rental up for success.
We've identified a few of the key features that renters are looking for in a vacation home, features that could help you increase your rental income, get booked faster, and ensure that your renters want to stay at your home time and time again (win-win right?!). By following a few simple steps, maximizing your rental potential can be a breeze. Let's take a look:
HOME FEATURES
When designing a home that you know will be a rental, the first step is making the right selections. "Don't select flooring or carpet or furniture upholstery colors that easily show dirt and/or wear easily," advises Christy. "These homes will get 'lived in' and you are at the beach, so sand is unavoidable. Spend a little bit more for commercial grade flooring and furniture. In the long run, you will be glad you did!" Hardwood and tile flooring area also good options, as they will be more durable, easier to clean, and will likely last longer. Choose a light colored hardwood to hide the dirt and sand, and a hickory or maple as it will provide some added durability.
As a general rule of thumb, we recommend our dual fuel HVAC system for all new homeowners, but especially for a rental home. This system will pay for itself, as it is a smart system that will increase the energy efficiency of your home. LED lightbulbs are another energy saver that you should include in your rental home."Use LED lightbulbs (and have some replacements where guests can find them)," explains Christy. "Not only are they more energy efficient, they last a long, long time."
OUTDOOR LIVING
Your guests are on vacation at the beach, and most likely will want to spend as much time as possible outdoors. And who can blame them?! Help them enjoy their time outside by creating an ideal outdoor living space. Renters are looking for screened in porches and patios with tables and chairs. Provide a grill so they can cook their meals outside as well. Bonus points if you have an outdoor fireplace or fire pit!
FURNISHINGS
Nice, new furnishings and splashes of color throughout can make a rental home look much more appealing. Renters tend to gravitate towards the rentals that look nicer in the photos, and your furnishings will certainly help achieve this aim.
More bedrooms and more beds will typically help get your home rented quickly, while also allowing you to ask more for the rental. Keep in mind that people often get the whole family together for vacation. The types of beds you include can make a difference as well, says Christy. "A king in the master bedroom. They are on vacation, so they want something at least as large as they have a home – probably larger."
Include a larger table with plenty of seating – if you have room for multiple people to sleep, there should be a place for them to eat as well!
TECHNOLOGY
Include flat screen TVs connected with cable in all bedrooms if possible, along with a TV with a Blu-ray player and/or streaming device in the living room.
"Other examples of conveniences (some would say necessities) for a rental home include Blu-ray players (no VCRs or even DVD players) and a device capable of streaming (Amazon Firestick, Chromecast, Roku, the current generation of WiFi enabled Blu-ray players) so guests can use Netflix, Hulu, HBO Go…" says Christy. And WiFi is a must! While you should have cable as well, I'm sure most would argue that having WiFi is even more important with streaming becoming wildly popular and WiFi being used on almost every cell phone, computer, and TV. "Make absolutely sure that your WiFi covers the WHOLE house with decent signal strength and that your router can handle lots of users," adds Christy. "Odds are that the cheapest modem in the store is the wrong choice for your rental property."
Bonus Points: Families will appreciate some kind of gaming system for the kids. A sound system or Bluetooth speaker would also be a big plus!
OTHER CONVENIENCES
"It's your home, but it's going to be someone else's home-away-from-home for a weekend or a week. So, think about what you and your friends have and use at home and provide it for your guests." explains Christy. Having a kitchen to cook your own meals is one of the main reasons people will rent a home instead of going to a hotel, so it is important to have a well-equipped kitchen. Make sure to have proper cooking equipment, utensils, and dishes for them to use. "One of the many benefits of renting a vacation home is the kitchen. Many of our guests cook large meals while staying here."
Other conveniences that are small but should not be forgotten are things like coffee makers, bottle openers, games, movies, and other miscellaneous items that people use on a daily basis. "Add a single-cup coffee maker, like a Keurig, Nespresso, etc. Don't forget to stock starter items, like a small library of DVDs (include some for all ages), beach books, board games, a sampler pack of k-cups…" The little things will make a difference and will help your guests enjoy the experience. While you can ask them to bring their own disposables, providing them with a couple rolls of toilet paper and paper towels to get started is always appreciated.
Another tip for success from Christy: "Make a book of instructions for everything! Label your remote controls so they know what does what. Make it easy for your guests to enjoy your home."
COMMUNITY/LOCATION
Location, location, location…Proximity and easy access to the beach, restaurants, and shopping is super important, but what is arguably even more important are the amenities and activities within the community. The convenience of not having to leave the community to get a relaxing and fun vacation is a huge bonus. Pools, tennis, volleyball, kayaks, golf, fitness centers, and any other activities will create an enjoyable vacation, especially when there is a little something for everyone! Keep the location AND the community amenities in mind before deciding on your investment property.
For more on Bayside and our new home communities at the Delaware Beaches, simply click here.
If you would like to find out how much you are able to rent your home for, get a free rental evaluation:
Christy Conaway
ResortQuest by Wyndham Vacation Rentals
(302) 541-5959
christy.conaway@wynvr.com